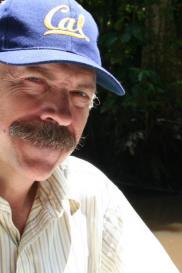 Contact
OFFICE: 307 Kroeber
OFFICE HOURS
Wednesdays 2:30  - 5:10 PM
Special Interests
Social/cultural anthropology, especially as relating to linguistic and medical anthropology, narrative, media and mediatization, folklore and performance, racialization, and violence.
---
Research
I am interested in philosophical and ethnographic issues regarding how bodies, media, viruses and bacteria, narratives and songs, and race constantly get mixed up, sometimes fatally. I have engage these issues by investigating epidemics of cholera and rabies in Venezuela, struggling with relatives, doctors, nurses, healers, and epidemiologists to figure out why so many people die from preventable diseases. My concern with infectiousness spreads from microbes to narratives, to thinking about who produces the stories of H1N1, Ebola, diabetes, etc. that proliferate in traditional and social media, thereby shaping the imaginations of policymakers, clinicians, journalists, and publics.
Profile
Exploring conceptual quagmires surrounding issues of language, poetics, and performance led me to collaborate with Richard Bauman in rereading work in philosophy, linguistics, history, politics, anthropology, folklore, science, and other fields from the 17th-20th centuries. We discovered that models of language and tradition often provide the unannounced foundation on which new political epistemologies are launched and social arrangements naturalized. Our Voices of Modernity (2003) won the Edward Sapir Book Prize.
A cholera epidemic killed 500 people in Delta Amacuro, Venezuela in 1992-1993. Clara Mantini-Briggs, a Venezuelan public health physician, and I researched global medical profiling, following ways that germs get linked to constructions of racialized bodies. Our Stories in the Time of Cholera received the Bryce Wood Book Award from the Latin American Studies Association and the J.I. Staley Prize from the School for Advanced Research. An out-of-print Spanish expanded edition, Las historias en los tiempos del cólera, is now available open source (http://oskicat.berkeley.edu/record=b23213458).
When Mantini-Briggs and I returned Delta Amacuro in 2008 to bring income from royalties and awards to rainforest residents, we encountered a mysterious epidemic that had killedthirty-eight children and young adults. Leaders Conrado and Enrique Moraleda asked us, healer Tirso Gomez, and nurse Norbelys Gomez to join them in creating a novel knowledge-production process that included the parents' personal narratives, vernacular healing, laments, clinical medicine, and epidemiology. Two book projects have emerged from it. Published in Argentina in 2015, Una efermedad monstruo: Indígenas derribando el cerco de la discriminación en salud(A Monster Disease: Indigenous Peoples Breaking Down the Wall of Health-Based Discrimination) emerged from 60 hours of conversations. Experimentally presented as a dialogue between team members, the book mirrors the dialogic process that resulted in a clinical diagnosis—rabies transmitted by vampire bats—and the broader goal of demonstrating how indigenous peoples can generate innovative perspectives on global health problems.
Duke University Press recently published Tell Me Why My Children Died: Rabies, Indigenous Knowledge and Communicative Justice, co-authored by Clara Mantini-Briggs. Part I juxtaposes narratives told by grieving parents, doctors, nurses, healers, epidemiologists, and journalists. Each chapter of Part II offers a new conceptual framework for rethinking issues of narrative and health, bodies and knowledge production, the work of mourning, and the mediatization of health. The book explores how rights to produce and circulate knowledge about health are co-produced with unfair distributions of care and disease, tying health inequities to health/communicative inequities.
Reflections on how Venezuelan journalists reported cholera in 1991-1992 gave rise to collaboration with media/journalism scholar Daniel C. Hallin and building a Latin American network that includes Eduardo Menéndez in Mexico and Hugo Spinelli in Argentina. In Making Health Public, to be published by Routledge in May 2016, Hallin and I focus on biomediatization processes through which health and media professionals co-produce basic understandings of health and disease. Using content analysis and ethnography conducted in clinics, public health offices, living rooms, and a wide range of media venues, we focus particularly on H1N1 ("swine flu"), Ebola, pharmaceutical and biotech corporations, and how race and health are co-produced in health news.
Recent awards include the Prize for Exemplary Cross-Field Scholarship (General Anthropology Division, American Anthropological Association, 2014), the Award for Best Article on Venezuela in the Social Sciences (Venezuelan Studies Section, Latin American Studies Association, 2015), the Américo Paredes Prize (American Folklore Society, 2015), and the Cultural Horizons Prize (Society for Cultural Anthropology, 2015).
---
Representative Publications
(2011). Communicating Biosecurity. Medical Anthropology 30(1):6-29.
(2013). Biomedicalization and the Public Sphere: Newspaper Coverage of Health and Medicine, 1960s- 2000s. Social Science and Medicine 96:121-12. (by Daniel C Hallin, Marisa Brandt, and Charles L Briggs).
(2014). Dear Dr. Freud. Cultural Anthropology 29(2):312-343.
(2015). Rethinking Psychoanalysis, Poetics, Performance. Western Folklore 74(3/4):245-274.
(2016). Language and the Communicability of Received Wisdoms: An Interview with Daniel Silva. Revista da Anpoll 1(40): 192-203
(2016). Ecologies of Evidence in a Mysterious Epidemic. Medical Anthropology Theory 3(3):149-162.
(2016). In Reclaiming the Communicative Commons in Health. In River of Fire; Commons, Crisis, and the Imagination, Cal Winslow, ed. Mendocino, CA: The Mendocino Institute.
(2017). Towards Communicative Justice in Health. Medical Anthropology 36(4):287-304.
(2017). Descubriendo una falla trágica en políticas revolucionarias de salud: desde inequidades de salud/comunicación a la justicia comunicativa en salud/Uncovering a Tragic Flaw in Revolutionary Health Policies: From Health/Communicative Inequities to Communicative Justice in Health. Salud Colectiva 13(3):411-427.
(2018). Indexical Disorders and Ritual (De)Centers of Semiosis. Signs in Society 6(1): 205- 224.
(2018). Creatividad y fronteras disciplinarias en el trabajo de Jaime Breilh. In Medicina Ecuatoriana en el Siglo XXI, Arturo Campaña, ed. Quito: Academia Ecuatoriana de Medicina and the Universidad Andina Simón Bolívar.
(2018). Ethnomedicine. In International Encyclopedia of Anthropology, Hilary Callan, ed. Wiley-Blackwell. (With Mark Nichter) 15
(2018). Dennis Tedlock (1939-2016). American Anthropologist 120(4):876-878.
(2019). Language, Justice, and Rabies: Notes from a Fatal Crossroads. In Case Studies in Language and Social Justice, Netta Avineri, Laura R. Graham, Eric Johnson, Robin Riner, and Jonathan Rosa, eds., 109-118. London: Routledge.
Books
Interviews are ubiquitous in modern society, and they play a crucial role in social scientific research.

This book examines the relationship between media and medicine, considering the fundamental role of news coverage in constructing wider cultural understandings of health and disease.

Esta obra explora las desigualdades sociales sufridas por el pueblo warao del Estado Delta Amacuro en Venezuela: desde conflictos de poder masculino y femenino hasta la resistencia a la dominación de Estado.

Cholera, although it can kill an adult through dehydration in half a day, is easily treated. Yet in 1992-93, some five hundred people died from cholera in the Orinoco Delta of eastern Venezuela. In some communities, a third of the adults died in a single night, as anthropologist Charles Briggs and Clara Mantini-Briggs, a Venezuelan public health physician, reveal in their frontline report.

Tell Me Why My Children Died tells the gripping story of indigenous leaders' efforts to identify a strange disease that killed thirty-two children and six young adults in 

a Venezuelan rain forest between 2007 and 2008.

Entre 2007 y 2008, una enfermedad misteriosa mató a 38 niños, niñas y jóvenes indígenas warao en Delta Amacuro, Venezuela. Médicos, epidemiólogos y curadores fracasaron en diagnosticarla.

This study asserts that conscious development of new ways of thinking about language had a crucial role in modern history, particularly the discovery of how differences between languages legitimated social inequalities.