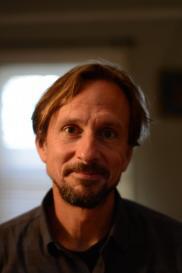 Contact
OFFICE: 
309 
Anthropology and Art Practice Building (Formerly Known As Kroeber Hall)
Special Interests
Social Cultural Anthropology; Media; Music and Sound; Photography and Cinema; Australia
---
Research
My research in Aboriginal Northern Australia proceeds in two, related domains that bring together my interests in music, media, and the close ethnography of an urbanising Northern Territory. The first looks to the tremendous successes of Aboriginal media production in order to understand its ramifications across Australia's north. In privileging music and sound in this work I seek to analyze the power of audio media as an everyday presence in Aboriginal lives and to relate this to both enduring and historically emergent understandings of relatedness and of mediation itself. My research thus explores filmic and audio media making as political practices while seeking to keep in sight the broader ontological entailments of musical forms and media technologies in the everyday lives of my interlocutors. These closely knit endeavors provide the focus for my first monograph, The Voice and its Doubles (2016), and continue to animate my ongoing research and writing.
My newest ethnographic research interests emerge from the amplification of indigenous urbanization in the Northern Territory and the predicaments and ironies of displacement and dispersal it entails. Attentive to the novel forms of intra-Indigenous relationship this has involved and to related transformations to both legal and ecological infrastructures, the project employs photography, film, and sound recording to produce a shared anthropology of urban Darwin. The project is supported by a fellowship from the National Science Foundation's Cultural Anthropology Program. 
I also pursue work with photography, ethnographic cinema, and sound production in my teaching and as a medium of knowledge production in the context of my fieldwork. I currently direct the experimental ethnography media lab, a teaching and research studio dedicated to ethnographic media in all forms. 
In addition to work in Northern Australia I have conducted research in New York City and Peru, and in 2001 produced an ethnographic documentary under the auspices of the Program in Culture and Media titled "A Cat in a Sack," focused on the performance practice of New York's Hungry March Band.
Profile
PhD, Department of Anthropology, NYU 2005; Certificate in Culture and Media; 2001.
---
Representative Publications
Books and edited collections:
2016. The Voice and Its Doubles: Music and Media in Northern Australia. Durham and London: Duke University Press.
2012. Radio Fields: Anthropology and Wireless Sound in the 21st Century (with Lucas Bessire). New York University Press.
Special Issues:
2021. Witnessing Environments (with Sarah E. Vaughn). Special section of Hau: Journal of Ethnographic Theory 11(2). 
2013. Becoming Like the State (with Jaap Timmer). Special issue of Oceania 83(3).
Articles and Chapters:
2021. Smoke's Screens: Fire, Media and the Politics of Apprehension. Hau: Journal of Ethnographic Theory 11(2):475-490. https://doi.org/10.1086/716556
2021. Witnessing Environments. Hau: Journal of Ethnographic Theory 11(2): 387-394. (with Sarah E. Vaughn)
2020. "Fire," in Cymene Howe and Anand Pandian, eds. Anthropocene Unseen: A Lexicon. Punctum Books.  
2019. To sing with another's voice: Animation, circumspection, and the negotiation of Indigeneity in northern Australian new media. American Ethnologist. [early view 10.1111/amet.12732]
2018. A Subject Deferred: Exposure and Erasure in an Ethnographic Archive. Oceania 88(3):292-304.
2018 "On Sonic Assemblage," in Morten Michelsen, Mads Krogh, Steen Nielsen, and Iben Have, eds. Music Radio: Building Communities, Mediating Genres. Pp. 49 - 69. New York: Bloomsbury Academic. 
2018. Untidy Times: Alexis Wright, Extinction, and the Politics of Apprehension. Cultural Anthropology 33(2):180-188.
2016. "Experiencing Self-Abstraction: Studio Production and Vocal Consciousness," in Kalpana Ram and Christopher Houston, eds. Phenomenology in Anthropology: A Sense of Perspective, pp. 153-174. Bloomington: Indiana University Press.
2015. An Urban Frontier: Respatializing Government in Remote Northern Australia. Cultural Anthropology 30(1): 139-168.
2015. "Radio" in David Novak and Matt Sakakeeny, eds. Keywords in Sound. Duke University Press.
2013. Intimacy and self-abstraction: Radio as new media in Aboriginal Australia, Culture, Theory and Critique 54(3): 372-393. 
2013. Becoming the State in Northern Australia: Urbanisation, Intra-Indigenous Relatedness, and the State Effect. Oceania 83(3): 238-258.
2013. The Anthropology of Radio Fields. Annual Review of Anthropology 42:363-378 (with Lucas Bessire).
2012. Running amok or just sleeping rough? Long-grass camping and the politics of care. American Ethnologist 39(1):171-186
2012. "Radio Fields." Introduction to Radio Fields: Anthropology and Wireless Sound in the 21st Century. NYU Press. [co-author]
2012. "From the Studio to the Street: Producing the Voice in Indigenous Australia" in Radio Fields: Anthropology and Wireless Sound in the 21st century. NYU Press.
2010. On Gammon, Global Noise, and Indigenous Heterogeneity: Words as things in Aboriginal Public Culture. Critique of Anthropology30(3):265-286
2009.  Speech that Offers Song: Kinship, Country Music, and Incarceration in Northern Australia." Cultural Anthropology 24(2): 280-312.
2004. "Local sounds, popular technologies: History and historicity in Andean radio." In Jim Drobnick, ed. Aural Cultures. pp. 207-218. Montreal and Banff: Walter Phillips Gallery/YYZ Books.
Books
Drawing on long-term ethnographic research in northern Australia, Fisher describes the close proximity of musical media, shifting forms of governmental intervention, and those public expressions of intimacy and kinship that suffuse Aboriginal Australian social life.

Radio Fields: Anthropology and Wireless Sound in the 21st Century 

Radio Fields employs ethnographic methods to reveal the diverse domains in which radio is imagined, deployed, and understood. Drawing on research from six continents, the volume demonstrates how the particular capacities and practices of radio provide singular insight into diverse social worlds, ranging from aboriginal Australia to urban Zambia.