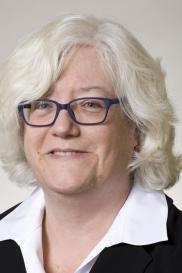 Special Interests
Materiality and the archaeology of inequality; gender, sex, and sexuality; cultural heritage policy; Central America and Mexico.
---
Research
Rosemary Joyce's research is concerned with questions about the ways people employ things in actively negotiating their place in society, the lives and itineraries of objects, and the reframing of human engagement with the world in terms of materiality.
Her published writing includes books and articles on the use of representational imagery to create and reinforce gendered identities, ranging from examinations of Classic Maya monumental art and glyphic texts, to Formative period monumental and small-scale images. Some of this work also involves mortuary analysis. She is an expert in the study of ceramic materials, including studies of crafting, use of pots in everyday life and on special occasions, and meaning-making with painted pottery vessels and figurines.
Rosemary Joyce participated in field research in northern Honduras from 1977 to 2009, in the Ulua and Cuyumapa valleys, Lake Yojoa, and the Caribbean coast. The sites where she conducted research date as early as before 1500 BCE to the Spanish colonial period. She employs multi-scalar approaches that consider regional  patterns and detailed household archaeology together.
Since 2010, she has been developing collaborations with colleagues in Mexico that bring the household scale approaches we developed in Honduras into a regional scale project in the hinterland of Classic Maya Palenque, in Chiapas.
As a museum anthropologist, Joyce works with curated collections, including photographs and historical archives, in museums in North America, Europe, and Honduras. She has engaged in collections management and exhibition work at Harvard's Peabody Museum, the Wellesley College Museum and Cultural Center, the Heritage Plantation at Sandwich, Massachusetts, the Museo de Antropología e Historia in San Pedro Sula, Honduras, and the National Museum of the American Indian, Smithsonian Institution.
Her work with museum collections inspired an interest in disciplinary history. She has published work about women who were early archaeologists in Honduras, and more broadly on the history and sociopolitics of archaeology, using Honduras as a case study. This led to her current work on cultural policy and histories of collecting.
Profile
The questions I examine all arise from considering the way that things make people and people make things. Understanding materiality, I argue, requires attention to repetition over time, making historical anthropology and archaeology critical parts of understanding materiality as emergent and dynamic. My research in Honduras explored social histories in which economic inequality was never as extreme as among neighboring Maya societies, leading me to consider how archaeologists might combat the common assumption that ever-increasing inequality is somehow inevitable. Those concerns with inequality have been central as well to my explorations of difference, identification, and the exercise of power within societies as well, where I have been particularly attentive to intersectionality between gender, sexuality, and economic subordination. As a public anthropologist, I am equally concerned with the pragmatic ways that the kinds of things I study as historical sources are tied up in nationalism, cultural diplomacy (or "soft power"), and struggles about what constitutes cultural heritage and whose voices should count in determining what can and cannot be done with cultural properties. All of my interests are rooted in field practice in Honduras (and more recently, through collaborations, in Mexico) and museum research throughout Europe, North, and Central America.
---
Representative Publications
(Rosemary A. Joyce and Susan D. Gillespie, editors) Things in Motion. Santa Fe: School for Advanced Research Press. 2015.
(Julia A. Hendon, Rosemary A. Joyce, and Jeanne Lopiparo) Material Relations: The Marriage Figurines of Prehispanic Honduras.University Press of Colorado, Boulder, CO. 2014.
(editor) Revealing Ancestral Central America. Smithsonian Institution Latin Center/National Museum of the American Indian, Washington, DC. 2013.
Ancient Bodies, Ancient Lives. Thames and Hudson. 2008.
(Julia A. Hendon and Rosemary A. Joyce, eds) Mesoamerican Archaeology: Theory and Practice. Blackwell Global Studies in Archaeology. Blackwell, 2004.
(Lynn Meskell and Rosemary Joyce) Embodied Lives: Figuring Ancient Egypt and the Classic Maya. Routledge, 2003.
The Languages of Archaeology: Dialogue, Narrative, and Writing. Blackwell, 2002.
Gender and Power in Prehispanic Mesoamerica. University of Texas Press, 2001.
(Rosemary Joyce, Carolyn Guyer and Michael Joyce) Sister Stories. New York University Press, 2000.
(Rosemary A. Joyce and Susan D. Gillespie, editors) Beyond Kinship: Social and Material Reproduction in House Societies. University of Pennsylvania Press, Philadelphia, 2000.
(David C. Grove and Rosemary A. Joyce, editors) Social Patterns in Pre-Classic Mesoamerica. Dumbarton Oaks, Washington DC, 1999.
(Cheryl Claassen and Rosemary A. Joyce, editors) Women in Prehistory: North American and Mesoamerica. University of Pennsylvania Press, Philadelphia, 1997.
Books
| | |
| --- | --- |
| | There has never been a single way that social life has heen organized by sex. The ancient Greeks saw men and women as expressing varying degrees of a single sexual potential; many Native American societies considered sexual identity as something that changed and developed during a lifetime, and recognized three or four categories of sexual identity. |
| | "This is a tremendously significant contribution to the field... It provides a new model of how social inequality first emerged in ancient societies. It provides an accessible, convincing demonstration of Judith Butler's performance theory. And it resolves some quandaries about gender construction and the female body that have plagued feminist theory. |
| | "This is not the same old culture history but a respectable compilation of recent fieldwork and analysis within a framework of innovative problem-oriented research. Joyce's introductory chapter is a synthetic tour de force." Journal of the Royal Anthropological Institute |